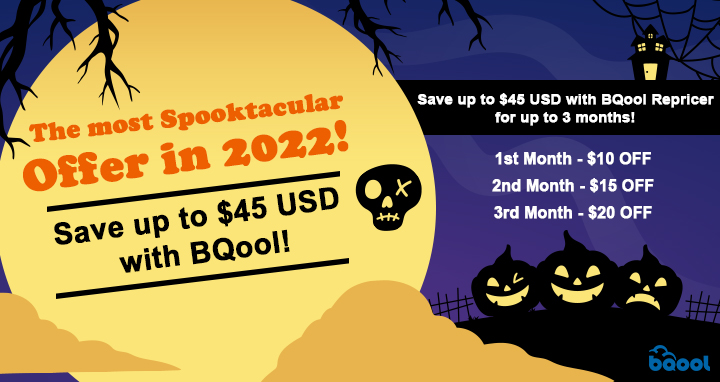 The crazy Q4 shopping season is here! Amazon has already kicked off early holiday sales with the Prime Early Access event to attract cautious shoppers who are hurt by the ongoing inflation. The buyers who have the itch to get good deals on gifts, indulgences and everyday necessities will now happily tick off the boxes on their Wishlist.


BQool also has The MOST Spooktacular Offer in store for you this 2022! You can now get $45 OFF on your favorite repricer to help you dominate the Buy Box and beat the inflation during this hottest Amazon selling season!


Save up to $45 USD with BQool Repricer for up to 3 months!


1st Month – $10 OFF

2nd Month – $15 OFF

3rd Month – $20 OFF


New $100 Repricer Monthly Plan: BC5K7H0G6M

Upgrade to $100 Repricer Monthly Plan: LQDYSWTXEN


But the promo does not end there, BQool is giving away 2 months FREE for anyone who subscribes to a new $100 Annual plan (including upgrade to $100 annual plan). Enjoy a total of 14 months of BQool AI repricer boosting your sales and your ROI for no additional cost!
Redeem this exclusive offer with the code below.


New Repricing Central $100 Annual Subscription: M2ATMEOSWS

Upgrade to Repricing Central $100 Annual Subscription: V8DS46KXAW



Don't let inflation deter you from making a profit this holiday season! Start your holiday season early, reprice competitively and sell your products masterfully to maximize your profit with BQool Repricer.


What are you waiting for? The offer is only available till December 15th. Go ahead and grab yourself an exclusive code right now – before it is too late!