6-figure Professional Amazon Book Seller
" When I got BQool...the first couple of days, I sold just an astronomical number of books. They flew out the door. I had this huge spike. It was just amazing...The AI is really really trying to get the Buy Box. I mean, to me the Buy Box is about 75 percent or something what your goal should be. " - Dan
Professional Amazon Book & Media Seller
" The AI, to me, is the way that I would like to implement everything … I've been kind of moving all my listings to AI Equalizer and Sales Booster … I see Buy Box wins going like 30, 35 (percent) more … and sales are … like 40 percent more. It's a lot more. " - Hayden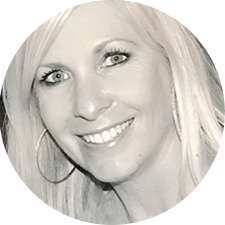 Maureen Frey
Customer Service Manager
The Friendly Swede
BQool and their services, make it easy to communicate with our customers, tracking their reviews and feedback so we can always be one step ahead. Thanks BQool for the support that never fails! You have helped us to grow our business by automating these important tasks - freeing us to WOW our customers around the world!
7-figure Amazon Sellers and Amazon Coaches
" We love BQool. The repricer, it's one of the must-have tools which we use a lot.Knowing your numbers is so key. Once you know how to utlize BQool, it will make a difference in your business. " - Mat and Cheri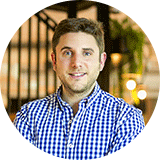 Grupo Clever Shopping is a business that is always looking for new ways to automate, escalate and grow their business. From this perspective, BQool is top when accomplishing repricing and customer service automation tasks and winning the all-important Buy Box.
Jorge Saldaña Alegre / Owner of Grupo Clever Shopping, SL.
Our Customers Says It Best
Social Media:
Check out what our customers say about us.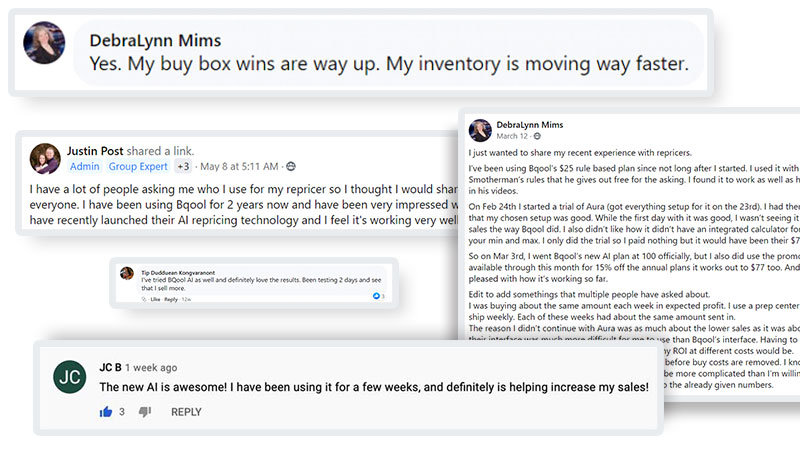 6-figure Amazon Sporting Equipment Seller
" After finding Bqool on the Amazon Marketplace, the results were astounding, I was able to get back 10 reviews per a hundred orders, thanks to Bqool AI smart and email subject and email scheduler. My email open rates increased drastically. " - Jared
7-figure Amazon Retail Clothing Seller
" The best thing I like about BQool is that it simplifies repricing clothes. You just need to enter the minimum and the maximum prices into your listing. I would definitely recommend the software to my friends and family who are struggling to win the buy box. Since joining BQool our sales have TRIPLED and I am very happy for this software. " -Ash
6-figure Amazon Book Seller
" I have seen huge results… wihin 3 days it paid for itself. I DOUBLED the books I sold in the 3 weeks I use BQool AI Repricer. I made 75% more profits. " - Sarah
Our Customers Says It Best
Social Media:
We are highly recommended. Our customers love how our software helps grow their business.