Why did I receive an email from Amazon saying my message could not be delivered?
Amazon is now allowing buyers to opt out of receiving unsolicited messages from sellers. If you send an email to a buyer who has opted out, Amazon will block the message and send you a bounceback email with instructions for how you can still message the buyer if it is critical to completing the order.
How do buyers opt out of messages from sellers?
In buyer accounts, Amazon has provided settings of Email Preferences in Communication Preferences Centre. If buyers select the option of "Do not send me any marketing email for now" here, they will unsubscribe from Amazon's marketing emails.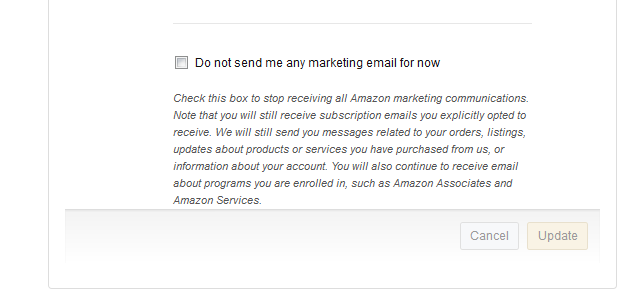 Please note that this means buyers will not receive "Amazon marketing communications". You should still respond to inquiries in which buyers contacted you first. Buyers can't opt out of those. If your response is blocked, make sure that you are responding to the original message thread and that the original message is included in your reply.
What does that mean for buyers to opt out of messages from sellers?
This means that buyers will only receive emails with information critical to completing the order, such as product customization questions, delivery scheduling, and issue with a shipping address. Sellers can no longer send messages which are not critical to completing the order such as: shipment confirmations, product manuals, out of stock notifications, and feedback or product review requests. The new rule does not apply to messages regarding handmade, wine, or custom orders. Please note that Amazon has warned sellers that "repeated violation of this policy may result in enforcement actions or lose selling privileges".
How do I send messages that are critical to completing the order if my message was blocked?
Amazon still allows sellers to send critical messages via Buyer Seller Messaging. To do so, click the buyer's name on the Manage Orders page and you will be lead to Buyer-Seller Messaging.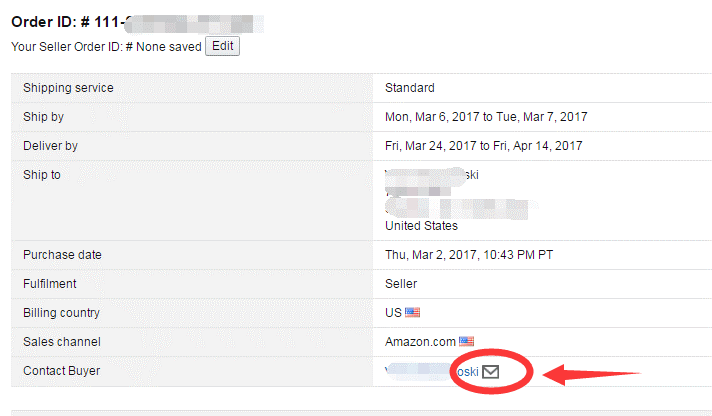 Then select "Additional Information Required" as your subject, write your message, and click "Send". Please note that you can only choose "Additional Information Required" here as other subjects will cause the message being bounced back again if the buyer opted out.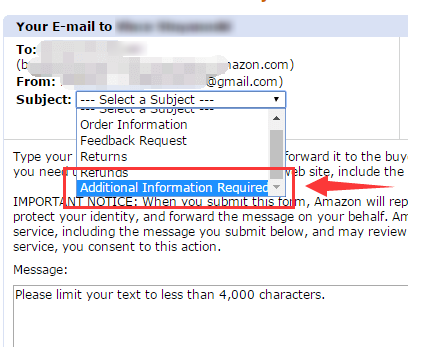 How can I identify buyers who have opted out?
Currently the only way to identify buyers is from the bounceback email. So far this information is not available through Seller Central or Amazon's API. BQool will keep monitoring this issue and will keep you posted as we learn more.
How can I prevent sending emails to these buyers from BQool?
For the time being, please simply forward the bounceback emails to our Customer Success Team at blacklist@bqool.com. Once we receive your emails, we will add these buyers into our Global Blacklist. Once on the Blacklist our system will block all emails to these buyers from any Feedback Central account across all marketplaces. Furthermore, we are planning to add a more automated solution and will notify you when it's available.
We hope the above information is helpful. If you have any questions with regards to this issue or Feedback Central, please don't hesitate to contact our Customer Success Team.