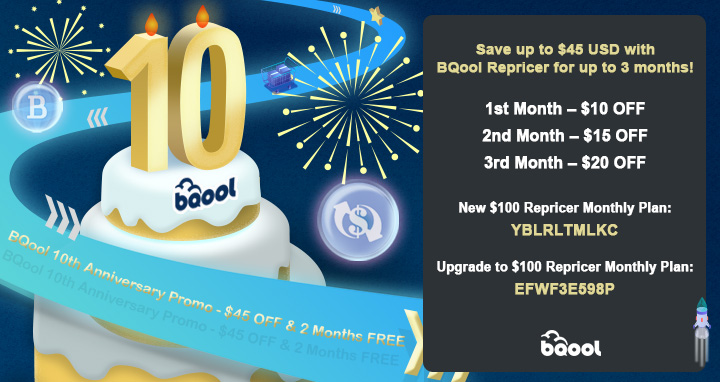 Hard to believe it has already been 10 years! We are celebrating BQool 10th anniversary in 2023. From its humble beginnings as a seller tool created for helping our friends selling on Amazon to supporting over half a million Amazon businesses of all sizes around the world, we are still innovating and providing the best experience to our amazing sellers.
BQool wouldn't be what it is today without you, and this is a great opportunity to give back to our community with the 10th anniversary promo! You can now get $45 OFF on your favorite repricer to help you dominate the Buy Box and celebrate the 10th anniversary with us!
Save up to $45 USD with BQool Repricer for up to 3 months!
1st Month – $10 OFF

2nd Month – $15 OFF

3rd Month – $20 OFF


New $100 Repricer Monthly Plan: YBLRLTMLKC

Upgrade to $100 Repricer Monthly Plan: EFWF3E598P



But the promo does not end there, BQool is giving away 2 months FREE for anyone who subscribes to a new $100 Annual plan (including upgrade to $100 annual plan). Enjoy a total of 14 months of BQool AI repricer boosting your sales and your ROI for no additional cost!
Redeem this exclusive offer with the code below.
New Repricing Central $100 Annual Subscription: AD3DEAHA9Q

Upgrade to Repricing Central $100 Annual Subscription: JQL0BUOPBA



*The 10th anniversary offer is available till July 14th.
Thank you for supporting BQool for a decade and here is to another amazing 10 years!