Latest product research tool – BigTracker is added to all BQool account
BQool users can now try out the latest product research software, BigTracker, for free on their BQool account. Simply click on BigTracker Free Trial button under BQool Apps to experience the most effective and innovative product research software BQool has to offer.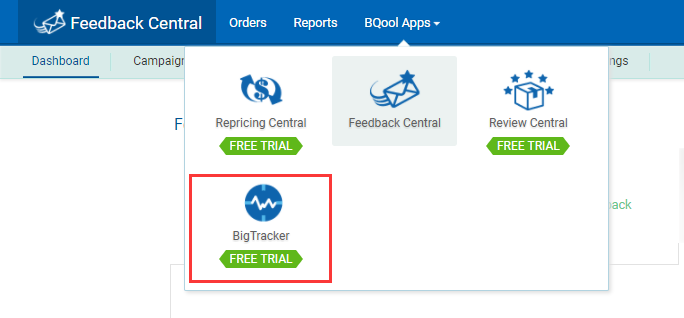 Feedback Central added a new budget plan
The latest premium Feedback Central monthly plan has now arrived with a budget price tag of $100 and allows 10,000 emails to be sent to your Amazon customers per month.
The premium plan offers the complete arsenal of Feedback Central features that includes
Manage Negative / Neutral Feedback
Request Positive Feedback Email
Remove Negative Feedback Email
Remove Neutral Feedback Email
Late Shipment Email
Request Product Review Email
Negative Feedback Received Alert
Negative Feedback Removed Alert
Positive Feedback Integration
Europe VAT Invoice
A/B Testing
Campaign Report
Introducing the new and improved BQool Feedback Central Email Attachments
BQool has upgraded Feedback Central email attachment and remove the limit on the number of attached file allowed per email to improve user experience. Users can now upload unlimited number of file as attachments as long as the total size of attachments does not exceed 50 megabytes.
New and improved email attachment:

Email now accepts unlimited number of attached files. The maximum size for all attachment is 50MB.

Previous version of email attachment:

Email attachment only accepts maximum of ten files and the maximum size for each file is 5MB.
Repricing Central implemented Buy Box Owner Filter
Buy Box Owner Filter has been added to help users to sort listings based on buy box owner type.
Buy Box Owner Filter option:
[ ] All
[ ] No Buy Box Owner
[ ] Amazon
[ ] FBA
[ ] FBM
The highly anticipated holiday sales season is right around the corner. Here at BQool we want to share the holiday joy by offering a special promotion for Big Tracker. BigTracker can help you sell smarter and boost your sales this upcoming holiday!
As our way of saying thank you, we are offering 30% off for the first 2 months, and 50% off for the third month. Redeem this exclusive offer using the coupon below.
We wish you an amazing and profitable Q4 this year!