Taipei, Taiwan – 8th June 2018 – BQool Inc., the creators of smart solutions for Amazon sellers, launched a Chrome extension for its product research tool, BigTracker, as part of the company's continuous efforts to bring smart and automated solutions to its customers. The Chrome extension is part of the BigTracker software that helps online retailers to identify trending products to then sell on Amazon.
Compared to traditional methods of product research, which often includes arduous tasks such as copying and pasting information from Amazon into a spreadsheet, the BigTracker Chrome Extension alleviates this time-consuming task. Users can view comprehensive Amazon product data within seconds.
The BigTracker Chrome Extension aggregates all of the users' required information on to one single page while searching on Amazon. It calculates all of the data, which includes the average sales, average prices, and the average rank of the listings that users have searched. Furthermore, the BigTracker Chrome Extension automatically displays comprehensive information such as the Buy Box price, Sales Rank, Estimated Sales, Estimated Revenue, Number of Reviews and Amazon Fees.
The BigTracker Chrome Extension also allows users to click to view the Historical Price and Rank Data. If users spot trending products that they're interested in, they can add these products to the product tracker to start tracking.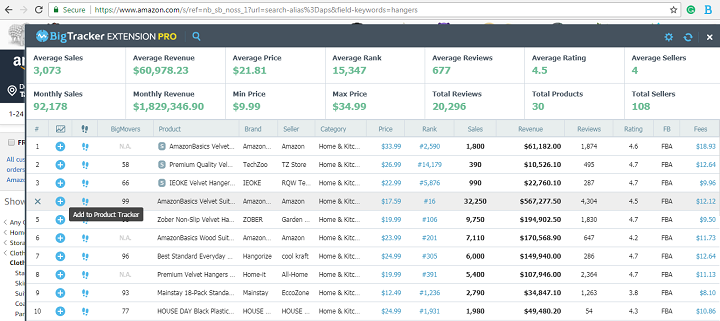 It simplifies product research work with just one click and has proven to be a game-changing Amazon product research tool. The BigTracker Chrome Extension allows Amazon sellers to concentrate on selling products and making money, rather than spending hours, even days on administrative tasks.
The BigTracker Chrome Extension Lite is currently available for free download and a free trial is offered for the Pro version. Learn more about the BigTracker Chrome Extension at https://www.bigtracker.com/chrome-extension/.
About BQool
BQool Inc is a SaaS company which was founded on the idea that Amazon sellers should always have access to the most innovative software solutions available. BQool is committed to simplifying the day to day tasks that all Amazon sellers face, whether that be dynamic repricing, competitor research, feedback and reviews management or discovering the most profitable products to sell.
Furthermore, BQool is dedicated to providing excellent customer service. With advisors around the globe, you can rest assured that any questions will be answered efficiently by BQool's team of experienced representatives. For more information about BQool, visit www.bqool.com.