Start Your Amazon Email Campaign Easily
We've streamlined our setup process to help you quickly start sending out emails.
Step 1:
Go to Campaigns tab and select a Default Campaign you wish to implement to set it up.
Step 2:
Use the Action – View to turn on the desired Filters. Then set up both delivery day and time under the Schedule tab.
Step 3:
Save and Activate the Campaign to start sending out emails to buyers, or use Test to preview the email in your own inbox.
Add a personal touch to your campaigns
To build your own Campaign, follow these 5 steps in Add Campaign
Set up the scope of your campaign
Select a template
Personalize the content
Use filters to target specific audiences
Set delivery schedule to optimize effectiveness of campaign
Europe Settings
The amount of total emails will be automatically distributed based on the order number in each EU marketplace.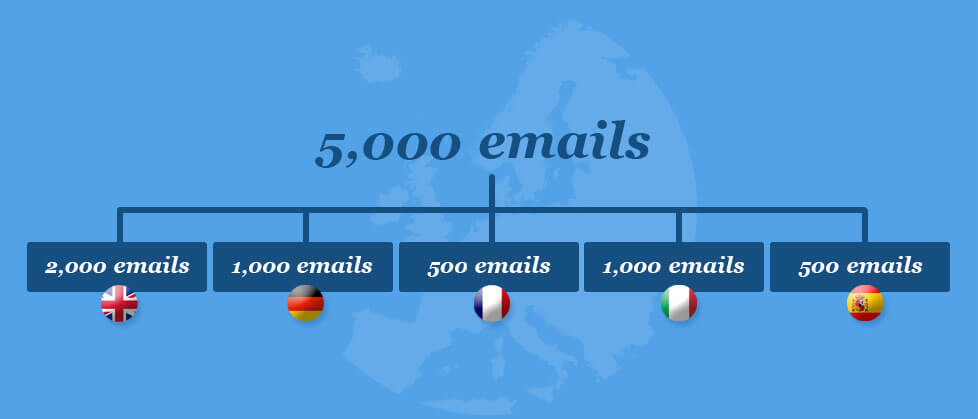 When will the emails get generated? How long do I have to wait?
Once you have activated a campaign, the emails should be ready in a couple of hours. The processing time depends on how many orders you have and also varies by the number of filters applied and email schedule.
How do I know if the campaign is sending out emails?
Under the dropdown menu from Emails tab, click on Campaigns. There, you can see all the Pending Email, Blocked Email, and Sent Email. You can filter the emails by different Campaign, order date, send date, or created date.
Are there default email templates or do I have to make my own?
Yes, we do have more than 10 default templates and various stylish themes that you can apply to your own campaign. We highly recommend you to personalize the email campaign to best meet your current business needs. (We are continuously designing more templates and themes for our customers.)
How can I send out email requests in different languages?
Our default campaign templates are translated into 6 different languages (English, French, German, Spanish, Italian, Japanese). We like to reduce the stress of selling on multiple Amazon marketplaces for you. Simply subscribe to a new marketplace to send out positive feedback requests in the buyer's local language. Starting from $10 with EU integration plan.
Can I test out the email first?
The test emails will only be sent to the mailbox you provided and not to your customers. There are two ways you can test out your email campaign – under Campaigns tab, use the Actions dropdown option to Send Test Email right away, or you can change the Status to Test. Please keep in mind that the number of daily test emails allowed is limited by the number you set in your Settings.
How do I know how many positive feedback the emails are getting?
With our Positive Feedback Integration under Settings tab, you will be able to track your positive feedback for the past 30 or 90 days.
How do I setup my VAT number(s) and add the corresponding rate(s) for different marketplaces?
You will need to set up your information under Settings > EU VAT Invoices > Create & Deliver EU VAT invoices. After you finish entering all the information for your company, you will need to setup the VAT details. There are four key pieces of information you will need to input in order to properly complete the process: Country, VAT number, VAT rate, and the ASINs using the particular rate.